Do Atheists Know More About Religion? – Pew Forum Study.
Posted by Phil Ferguson on September 29th, 2010 –
Comments Off
– Posted in
survey
Well, I am a few days late with this one – Kinda busy…..  There is a new study from the Pew Forum.
I, like everyone else, love it when some information is found that confirms my previously held belief.  In this case, I tend to think that atheists (and agnostics) seem to know more about religion then the people that actually follow it.  The old saying goes something like – if you have a question about the bible – ask an atheist.
Here is the information that is in all the blogs…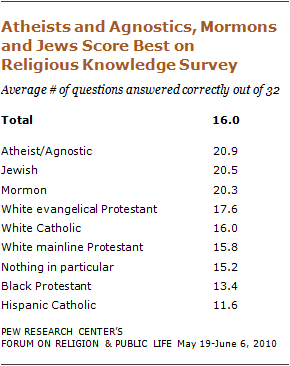 I little deeper look at the data shows that the atheists tend to know more about world religion and some of the christians (Mormons and White Evangelicals) know more about christianity – darn that is in conflict with my world view…..
Hey look – They have a quiz you can take.  Give it a try and tell us how you do.  What score did you get?  I got 14 out of 15 correct.
When you think about some of these questions – the results are very telling.
More than four-in-ten Catholics in the United States (45%) do not know that their church teaches that the bread and wine used in Communion do not merely symbolize but actually become the body and blood of Christ. About half of Protestants (53%) cannot correctly identify Martin Luther as the person whose writings and actions inspired the Protestant Reformation, which made their religion a separate branch of Christianity. Roughly four-in-ten Jews (43%) do not recognize that Maimonides, one of the most venerated rabbis in history, was Jewish.
Yikes.  Talk about not even knowing what your religion stands for.  Here are the results for different education levels.
Looks like you learn more from education then you do from going to church…
It looks like you learn nothing by going to a church!  This is NOT a surprise.  This next chart is not a surprise either.  Guess what group knows the least about religion.
Yeah – that's right.  The people that think the bible is the literal word of gOd, know the least about religion.  There are many other graphs and charts - go check them out.