The Amazing Meeting 8 – Day 1 Thursday Skepticicm In The Classroom
Posted by Phil Ferguson on July 9th, 2010 –
Comments Off
– Posted in
TAM
The perfect wife and I arrived about 8:30AM local time and made our way to South Point.  We checked into our hotel and then signed in for the convention.  It was great to see so many friends here.  One person said it's like the whole web showed up in one place.
Our first official event was Workshop 2B: Skepticism in the classroom.  This was started by Michael Blanford (right); he is the director of Education for the JREF.  We also heard from my good friend,
Matt Lowry (The Skeptical Teacher) (left).  He shared some of his real world class experience with us.  He gave great examples of how to bring skepticism into the class room – how to make kids think.  We also heard from Daniel Loxton (right) he is the author of the new and
awesome kid's book called "Evolution".  It has great graphics and is written in the Scooby Doo style.  That means that there are mysteries for the kids to solve.  Make it fun and they will learn.  To finish up we heard from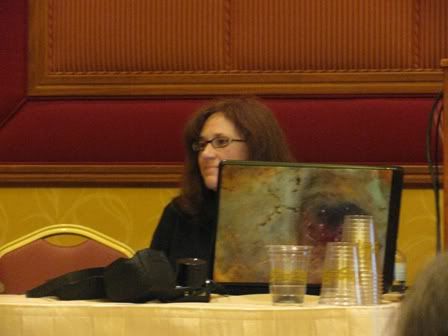 Barbara Drescher (left).  She talked about how things are not always how they first look.  This presentation all went very well and Mr. Richard Dawkins dropped in to listen to some.  Whoo hoo.
I will talk about the Feminism workshop next – when I can find more time. Whew….