The Amazing Meeting 8 ( TAM8 )– Day 2 Friday Afternoon Summary
Posted by Phil Ferguson on July 13th, 2010 –
Comments Off
– Posted in
TAM
After our Friday morning sessions, it was time for lunch.  The Perfect Wife and I went to the special speakers lunch.  Several of the speakers were there and I got to sit close to two of them here is a photo….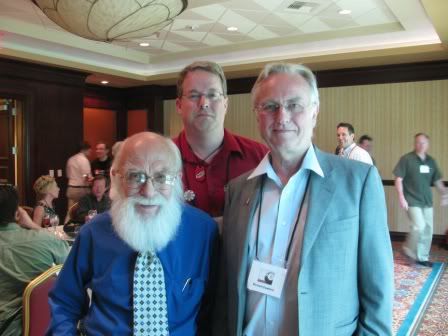 I was really planning on standing between them but, it's still a cool photo.
I also got a photo with Simon Singh.  If you don't know who he is – you better read this.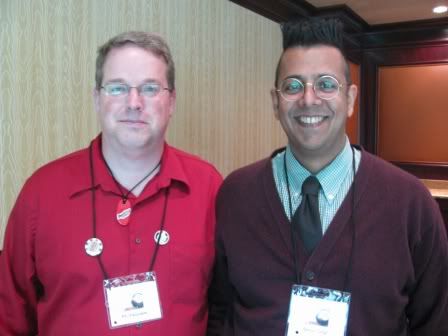 This Is Joe Nickell.  Below of course is Adam Savage of the Mythbusters.
One of the best talks of TAM was delivered by Pamela Gay.  She is a real life astronomer and works in Illinois. 
Then we had "The Talk"  from Phil Plait.  Phil's title could have been, "Don't Be A Dick."  It was about helping more people by being nice and not rude.  This seemed to get the most discussion at TAM.  Everyone had an opinion.  I'm not sure if he was talking about a specific person or blog but he sure was passionate.  I agree with most of what he said and I know from time to time I'm not as nice as I should be.  Maybe it is something we can all work on.  If I had to reply I guess I would say, "Don't Be A Dick And Don't Be A Pussy."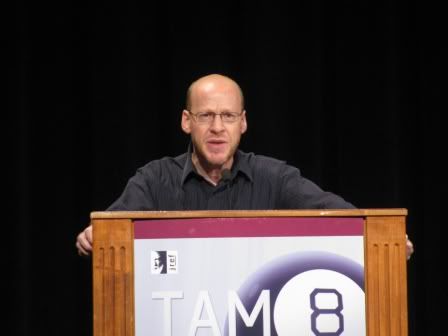 Wrapping up the night we had Carol Tavris.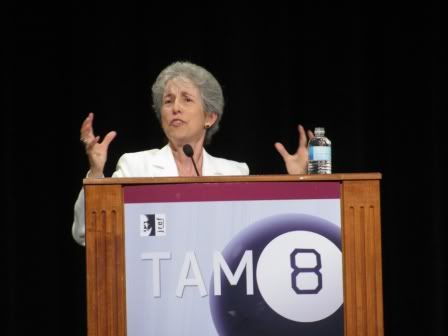 At the last minute we had a suprise visit by Eugenie Scott.  She is the Executive Director of the National Center for Science Education.
Later that night we had tickets to see Roy Zimmerman and the Talent Show.  However, we were having such a good time with friends at the Del Mar that we just decided to hang with them.  There was at least 7 former/current students from the U of I and Parkland.  It was great to visit and find out what they are all doing.